Profile

zerocharliexray's Journal
Free Account
Created on 2014-04-30 19:55:43 (#2246250), last updated 2016-08-01 (59 weeks ago)
0 comments received, 149 comments posted
4 Journal Entries, 2 Tags, 0 Memories, 84 Icons

About
| | |
| --- | --- |
| Name: | zerocharliexray |
| Birthdate: | Jan 18 |
| | |
| | |

Mini Bio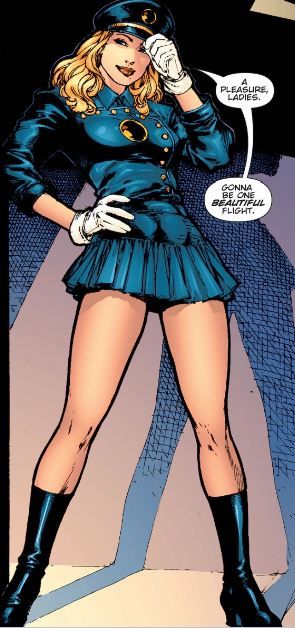 Zinda Blake
Once a wealthy socialite, Zinda Blake shoved her way into the Blackhawks, a boys club of resistance pilots in World War Two. A flying ace and markswoman, Zinda earned her spot as Lady Blackhawk, until the events of Zero Hour cast her out of her time and into the future.
Birds of Prey
Struggling to find her place in a world that no longer requires her aid, Zinda becomes the spokeswoman for Blackhawk, Inc., the shipping company that's all that's left of her former team. Grounded and unwilling to fly a tub as a co-pilot, the last straw is a series of complaints about her uniform. Zinda breaks away from Blackhawk, Inc. to accept Oracle's offer and pilot the Birds of Prey aboard Aerie One, bringing her sunny disposition and a high-tech (and hot) Citation-X with her.
About Zinda
Zinda is a skilled pilot and excellent hand-to-hand fighter. She is usually carrying two small handguns about her person, and while on duty wears her Blackhawk uniform: a military jacket, hat, and short pleated skirt.
I'm Lorna, and can be reached at aria [dot] marier at gmail [dot] com or
here
. Zinda Blake is the intellectual property of Jack Schiff, Dick Dillin, and DC Comics. This journal is being used for roleplay at
[Bad username or unknown identity: ten-fwd"]
. No infringement is intended and no profit is being made.

People
[View Entries]

Communities
[View entries]

Feeds
[View Entries]

Subscriptions (0)

Linking
To link to this user, copy this code:
On Dreamwidth:
Elsewhere: